Despite buying a house literally 25 minutes from where my wife and I have season lift tickets to four mountains, we only hit the slopes once last year. I usually go 2 to 3 times a week. Most of the mountains were closed for the majority of the year last year, hundreds of people were laid off, and those who went to the places that were open returned home with damaged equipment due to "early season conditions" extending from November right through March. Local ski shops have gone out of business, people wasted hundreds of dollars on unusable season lift tickets (one particularly generous mountain credited those people for the 2005-06 year), and all of the resorts are saying that it could be years before they ever recover financially.
And that's why this image is so important.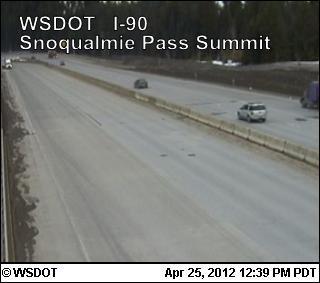 The snow level has fallen below 3,000 feet for the first time in almost a year and we're in for a ton of snow this week. Mount Baker, some 3 hours north of us, received 24" of snow this past weekend and could open by mid-November or sooner. Stevens Pass, where we'd like to go for Thanksgiving, is getting a bunch of snow too. And best of all the above webcam snapshot is from Snoqualmie Pass, right up the road from our house. Snoqualmie Pass isn't the best place to go snowboarding, but it's not only super close to home, but also the lowest of the mountains. When it gets good snow, everyone gets good snow.
Fingers are crossed. Now where did I put that snowboard wax?