A Chinese man married a foam cutout version of himself in front of 100 guests in Zhuhai city and admits that he's "maybe a bit narcissistic".
Do you think? I mean, there's no need to jump to conclusions here and beat oneself up. Well, at least he was polite enough to make sure the bridesmaid made the foam version of himself bow to the guests as they walked down the aisle.
"There are many reasons for marrying myself, but mainly to express my dissatisfaction with reality," Liu Ye, 39, said, Ananova portal writes.

"This marriage makes me whole again. My definition of marriage is different from others."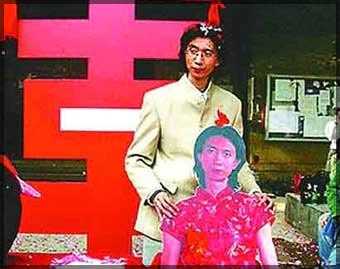 This is the most ridiculous story to come out of Asia not from a Sony executive in months.